Marine Electric Systems is excited to announce the addition of MG Energy Systems batteries to our product line! Marine Electric Systems has recently sent all of our technicians through MG Energy Systems installer training, making us one of the few certified installers and distributors in the USA.
About MG Energy Systems
MG Energy Systems (MG) develops and produces advanced battery systems for Marine, Solar/off-grid, industrial, and mobile applications. In 2011, they developed their first Lithium-Ion battery systems, which were added to Victron Energy's product range. MG Energy Batteries have many benefits over their competitors; they boast a cycle life of 3500 cycles at 80% depth-of-discharge, and roughly double that if you were only to cycle 50%. This means a much longer life for your battery – it will likely be the last battery you buy!
MG Energy Batteries
MG Energy Systems offers high-end, high-performing batteries in various sizes, voltages, and energy densities. MG Energy Batteries are fully compatible with all Victron monitoring devices, and components, which means you can monitor and visualize your battery system performance from anywhere in the world! The two stars of their battery line are the LFP 12V and LFP 24V. These robust batteries are based on Lithium Iron Phosphate chemistry. As a result, they are safe and reliable.
LFP 12V
The metal housing makes the 12V battery solid and impenetrable. A metal enclosure protects against EMC radiation protection. The LFP 12V is suitable for installations in limited space thanks to its design. The next generation of Lithium Iron Phosphate chemistry results in a high energy density, which reduces the weight substantially.
Technical Specifications:
| | |
| --- | --- |
| Technology | Lithium Iron Phosphate next generation LiFePO4 |
| Nominal voltage | 12.8 V |
| Nominal capacity | 210 Ah |
| Nominal energy | 2.7 kWh |
| Weight | 22 kg |
LFP 24V
The MG LFP Battery 24 V is available in two versions: LFP 230 and LFP 280. This battery is fully scalable in both voltage and capacity. Easily expand your energy storage system by connecting the LFP batteries in parallel and series.
You can easily scale the voltage level by putting the LiFePO4 batteries in series. For example, four batteries in a series create a system voltage of 96 Vdc. As a result, the LFP battery 24 V is an excellent choice for many applications.
Technical Specifications:
| | | |
| --- | --- | --- |
| | MG LFP 230 | MG LFP 280 |
| Technology | Lithium-Ion next generation LiFePO4 | Lithium-Ion next generation LiFePO4 |
| Nominal voltage | 25.6 V | 25.6 V |
| Nominal capacity | 230 Ah | 280 Ah |
| Nominal energy | 5.8 kWh | 7.2 kWh |
| Weight | 41 kg | 53 kg |

Master LV Battery Management Systems
The main function of a battery management system (BMS) is protecting the connected batteries. It collects data and monitors all essential battery parameters. This way, the Battery Management System preserves the health of your system. The BMS will always ensure that the parameters stay within a safe operating window. The Master LV is external so that it can incorporate bigger batteries, more power, is more sophisticated, and gives you more control.
Moreover, it protects the modules against exceeding parameters and will shut down if one of the batteries malfunctions or overheats.
Technical Specifications:
| | | | |
| --- | --- | --- | --- |
| | MGMLV120400 | MGMLV120600 | MGMLV1201000 |
| Main safety contactor current continuous | 400 A | 600 A | 1000 A |
| Weight | 4.9 kg | 6.0 kg | 8.6 kg |
Other Accessories
MG Energy Systems also carries accessories to your batteries and management systems to ensure all your devices are functioning properly.
SmartLink MX
The SmartLink MX collects and combines all data from the MG masters in a battery system. It transmits the combined data over CAN-Bus and makes it available for third-party devices. The SmartLink MX can communicate with both low-voltage and high-voltage BMS.
Additionally, the SmartLink MX detects the system's condition, including warnings and errors. It provides all the necessary controls to start, stop and reset the entire battery system when needed.
Energy Monitor
The MG Energy Monitor is a high-resolution touchscreen display that shows all important battery parameters at a glance. It provides an overview of the battery system status and gives insight into the energy flows. This results in easy control and monitoring of your MG battery system. This way, you can remotely monitor your battery system from anywhere.
Connect App
Bluetooth connection through the Connect App makes it possible to monitor and control your battery system with your smartphone or tablet. Just like the Energy Monitor, you can get insight into your system's battery status and energy consumption of your system whenever you want.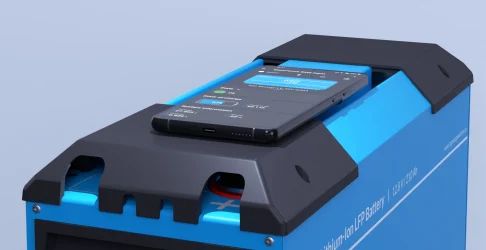 Energy Portal
Whether working with a PC, laptop or tablet, the Energy Portal is always at your fingertips. The Energy Portal runs in any web browser and is programmed with a responsive design. The online battery monitoring portal is always accessible no matter where you are, what platform you are working on, or what device you use.
If you're looking for a reliable, energy-dense, technologically advanced battery system, look no further, and contact Marine Electric Systems today!