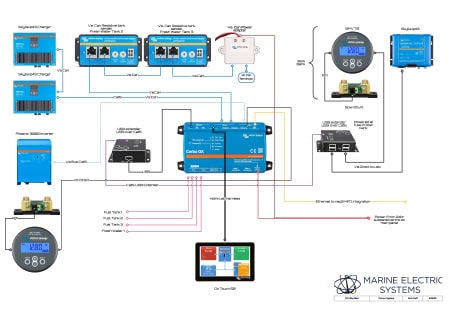 At Marine Electric Systems, customer satisfaction is our top priority. We value your experience and always go the extra mile to equip you for success out at sea. Our team specializes in comprehensive electrical refits for recreational boating clients in Annapolis, Maryland. Electrical refits are essential for boats of all kinds and our team works with strict attention to detail to strengthen the vessel's efficiency. At the end of each project, all clients receive a custom system diagram to enhance their understanding of the new system and its components. The custom system diagram is an incredibly beneficial resource that provides vital education for our customers. To schedule your electrical refit or learn more about the benefits of custom system diagrams, please contact us today!
Our Custom System Diagrams and the Importance of Education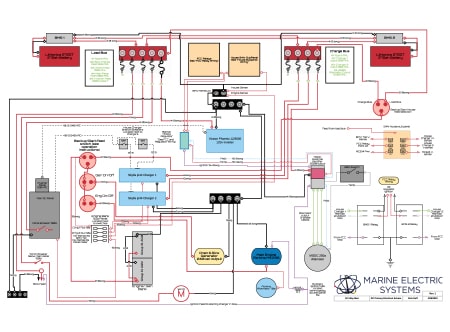 From the moment we step on the boat, the importance of customer education is undeniable. Education is crucial to achieving longevity for your boat's electrical system and enhancing your peace of mind offshore. Customers need to understand how the boat works to prevent electrical issues and ensure optimal performance on the water.
With the custom system diagram, we equip customers with the knowledge and tools they need to succeed. Every boat is unique, and we tailor the education process to its distinct electrical system. The custom system diagram contains detailed information about every new component and provides a thorough map of everything our team did onboard. We encourage customers to be self-sufficient and intimately familiarize themselves with their new system. If something breaks, owners need to know how to fix it!
Full Transparency and Trusted Expertise
Marine Electric Systems is a trusted expert in the maritime industry with a reputation for excellence. Our team values transparent and responsive communication and works directly with customers to ensure satisfaction with our services. Throughout the project, we will keep you updated with consistent
progress reports and photos. The custom system diagram is a key part of the customer education and preparation process. If you need electrical support for your boat, choose the expert that the Annapolis community trusts! We're dedicated to strengthening your safety and efficiency out at sea.