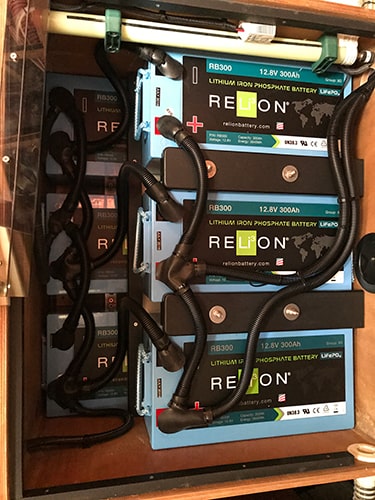 Strengthen the heart of your electrical system with top-quality batteries! Lithium Ion batteries are smart investments that make a lasting impact. They're perfect for marine applications and can be customized to fit your space. Unlike traditional batteries, Lithium Ion batteries are lightweight and maintenance free. They maintain optimum voltage for long periods of time and include a variety of safety features.
Do you want to enhance your system with Lithium Ion batteries? Contact Marine Electric Systems today to get started! We're a trusted expert in the Annapolis region with over 30 years of valuable experience. As a leader in the maritime industry, we work with leading brands to supply and install Lithium Ion batteries for our recreational clients. Our team stays up to date on all of the latest technological advancements and works with attentive work ethic to upgrade your boat. To learn more about the benefits of Lithium Ion batteries, please give us a call!
The Benefits of Lithium Ion Phosphate Batteries
Whether you want enhanced safety or reliable power voltage, Lithium Ion Phosphate batteries are an excellent product for your boat. They present a multitude of advantages for the electrical system and feature a variety of helpful features. Some of the most notable benefits of Lithium Ion Phosphate include:
Built-in safety features
A long life cycle
Fast and efficient charging
Overcharge protection
A long shelf life
No maintenance
Flexible installation
Increased voltage capacity
Temperature tolerance
Higher energy density
In addition, the Lithium Ion battery is non-hazardous and fully customizable. Compared to lead-acid energy sources, the Lithium Ion battery weighs up to 60% less and its life cycle is ten times longer. It includes built-in safety features that prioritize your well-being and keep the system running smoothly. The internal Battery Management System (BMS) offers effective protection from overcharge and high or low voltages. To unlock these benefits, opt for Lithium Ion batteries to power your boat!
Expert Installation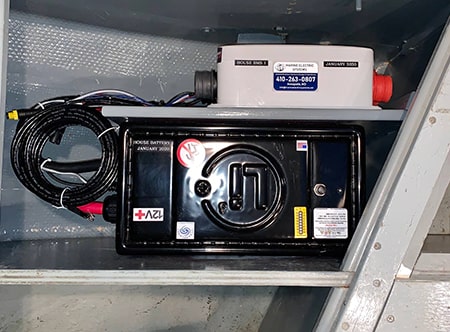 If you want to upgrade your boat with Lithium Ion batteries, Marine Electric Systems is the best team for the job! We have decades of experience in the maritime industry and maintain a reputation for excellence in the Annapolis community. Our team will work with you to identify the best charging system for your boat and ensure all components work together cohesively. We provide attentive installation services for Lithium Ion batteries that will take your boat to the next level.
Popular Brands
Marine Electric Systems works directly with manufacturers to ensure top-quality products for all customers. We install, refit, and repair a wide range of charging systems to keep your boat in tip-top shape. For Lithium Ion Phosphate, we source these batteries from ReLiON and Victron due to their superior quality and shared commitment to excellence.
The Battery Management System (BMS)
The Battery Management System (BMS) is essential for Lithium Ion batteries due to its ability to balance cell charges. It's divided into internal or external BMS, and its key purpose is to prevent damage to the Lithium Ion battery. For example, the BMS protects the battery from overcharge or discharge current. It monitors the temperature of the system to ensure the battery is operating efficiently. If the battery experiences an over-temperature or under-temperature, the BMS will shut down the system as a preventative measure. To prevent high or low voltage, the BMS reduces the charge current.