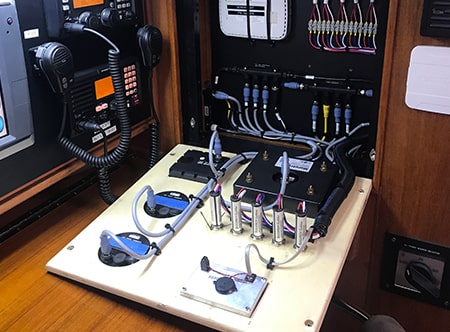 As a leader in the maritime industry, Marine Electric Systems is the expert you can trust for top-quality services and attentive customer care. We offer complete system design and installation services for boats of all kinds. Our team has a reputation for excellence and always puts the customer first. Ready to get started? Give us a call today to schedule your consultation!
Preliminary Consultation
Every project starts with a preliminary consultation with our expert team! This interview is essential and can be conducted by phone or in-person. During this step, we discuss any issues your boat has faced and your goals for its electrical system. It's important to analyze the boat from all angles and identify any potential obstacles for the project. Do you have any budget constraints? What do you dislike about your current system? What is your ideal electrical system? When was your last maintenance check-up?
After the consultation, the next step is the research stage. Our team will explore all product options to find the best equipment for your boat, budget, and needs. We will schedule a time to view your boat in-person and work with you to create a customized system design.
Customized System Design and Installation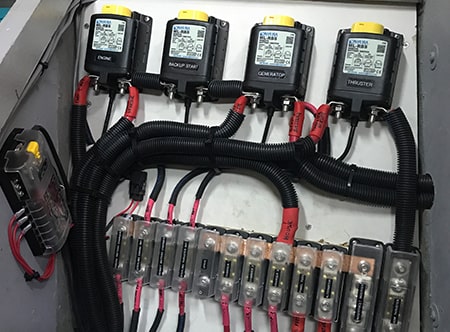 We work with you to customize your electrical system to your liking! Whether you have innovative solar panels or a classic electric system, we have the expertise and tools you need to strengthen your boat's efficiency. Our goal is to design a boat based on how you plan to use it. All components must work as one cohesive unit. To identify the best components for your boat, we analyze the battery chemistry and available charging components. Our team is very hands-on, and we check up on all components of the boat to ensure peak performance.
Once we establish the design plan, it's time to get to work! We pull out all old equipment and install new components. To ensure longevity and safety, we put all of our equipment through an extensive "sea trial."
Comprehensive Documentation and Attentive Customer Care
At Marine Electric Systems, the customer always comes first. We value your experience and work with strict attention to detail every step of the way. Throughout the project, it's important to keep our clients in the loop. We document every step and provide frequent progress reports to our clients.
When the project is complete, customers receive comprehensive documentation of our work. This document serves as a map of everything we did on the boat and offers helpful guidance for future troubleshooting. We encourage customers to be self-sufficient and educate them on how to use each component. Every boat is different, and therefore every education process is unique. If you have any questions, please don't hesitate to reach out to our team. Your satisfaction is a priority to us, and we always go the extra mile for our clients.