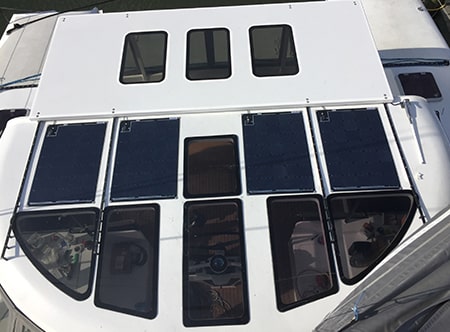 Solar power has redefined the maritime industry, creating a sustainable and more efficient system for your boat. Whether you want to update your Solbian panels or refit your boat with solar energy, Marine Electric Systems is here to help!
Since 1990, our electrical services have proven to be invaluable to our clients. From cruising boats to sailboats, we've worked on boats of all kinds and have the expertise you need to ensure your watercraft is in tip-top shape. Our team performs attentive maintenance and installation for a wide range of solar power systems, helping our clients harness the power of renewable energy. Ready to learn more? Contact us today!
The Benefits of Solar Power
Solar power is an excellent investment with a multitude of benefits! The low maintenance panels unlock an inexhaustible energy source for your boat. They drastically cut carbon emissions, eliminate hefty diesel costs, and reduce electricity bills. Unlike noisy alternatives, solar panels silently power your boat to create a serene atmosphere amongst the waves. Due to all of these appealing benefits, the solar power industry is booming. They're constantly innovating to improve your experience and strengthen your boat's system.
Solar Panel Options for Your Boat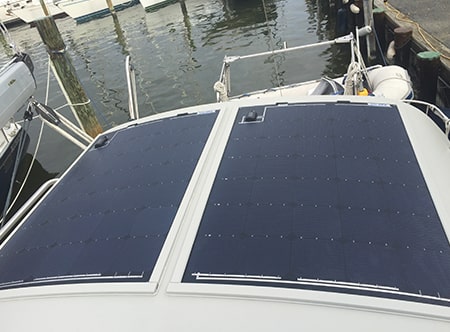 Which solar panel type is best for you? At Marine Electric Systems, we provide solar panels in a wide range of sizes and configurations to meet the demands of the marine world. The three most popular options are flexible panels, walk-on panels, and rigid frame panels. Each panel type requires a distinct installation process and presents specific advantages for the passengers. Our team will work with you to identify the best option to suit your needs and strengthen your boat's system.
Flexible panels seamlessly integrate into the canvas and wiring of the boat. They're subtle and hidden, giving your vessel a sleek and clean aesthetic. Walk-on panels adapt best to boats with open deck space due to their unique placement. Each panel is glued down and fastened to the deck of the boat, and their durability allows passengers to safely walk on them without fear of damage.
Rigid frame solar panels are available in several sizes and variations. Perfect for outdoor use, each panel is weatherproof and built from unbreakable plastic film. They easily adapt to boat decks, hard dodgers, Bimini Tops, and even RVs. The Solbian panels are an excellent investment with lasting durability.
Solar Regulators
Solar regulators, also known as charge controllers, play an integral role in the health of your charging system. The purpose of the solar regulator is to control the magnitude of power that travels from the panel to the battery. It prevents the system from over-charging and ensures that all components are working together as a cohesive unit. Regulators are available in a wide range of options. Most often, our team recommends the brand Victron for smart solar regulators. Their PWM and MPPT controllers are top-quality options for your boat.
The difference between the PWM and MPPT controller is the amount of voltage drawn from the panel. With the PWM regulator, the power output is significantly decreased. There are restrictions to guarantee that the power drawn from the panel is the same level as the battery voltage.
On the other hand, the MPPT is designed to maximize the power output from the solar panel. The current is drawn from the panel at the maximum power voltage, which amplifies the solar panel's efficiency. This method can generate up to 30% more energy than a PWM regulator.